Uganda sign language
November 24, 2013
Moral education.  Nice to see it with original artwork, rather than on T shirts or bumper stickers. (Namuwongo, Kampala, 2013)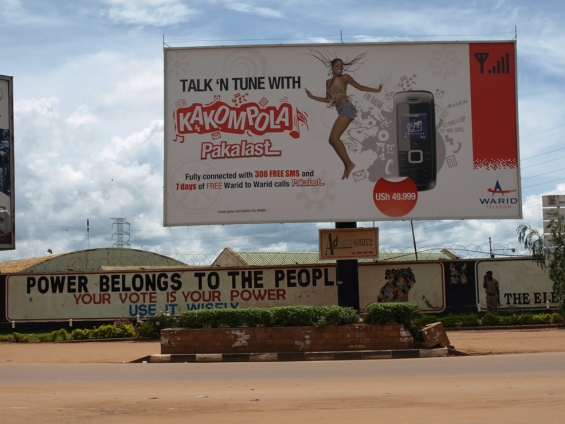 Civic education by the National Electoral Commission seems here to be trumped by the vivacity of the cellphone ad.  (Kampala, 2010)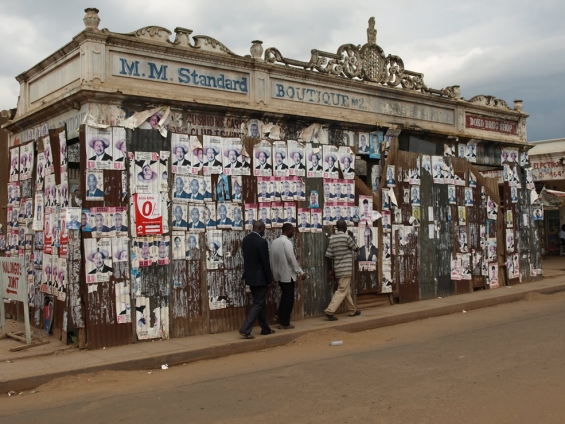 Election posters wrap up a colonial-era store.This was quite likely a'Ugandan Asian'business before their expulsion in 1975.  The eastern town of Mbale, where this picture was taken in 2012, is widely said to once have been the neatest and cleanest town in Uganda.  It is now distinctly down at heel, and there aren't many Asians left there either, but it does have one rather good Indian restaurant.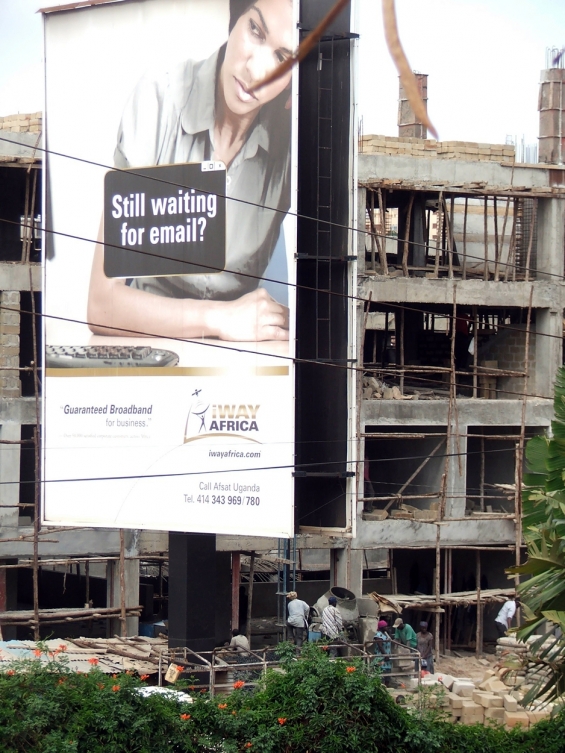 Double modernisation: higher speed internet and higher-rise buildings.  Not sure if the guys mixing the cement are online yet. (Kabalagala, Kampala, 2013) 
The Obama brand is everywhere. (Kawaala, Kampala, 2011)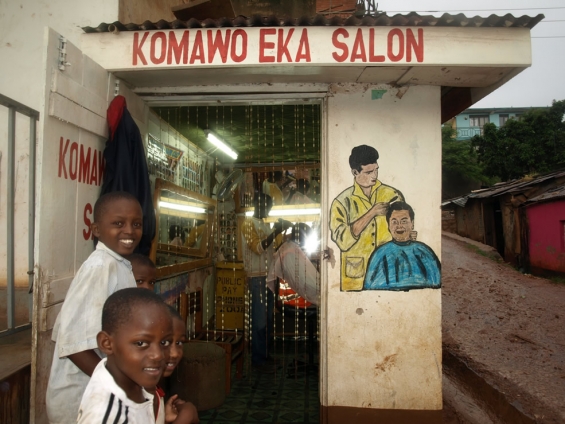 Some barbers prefer religious branding.  "Komawo Eka" means, roughly, "Return to the Lord." (Nsambya, Kampala, 2013)
Fort Portal, named after the British East Africa Commissioner who oversaw Uganda's incorporation into the empah, has some neat hairdresser signs, and wins my vote for the country's cleanest and neatest town. (Fort Portal, 2011).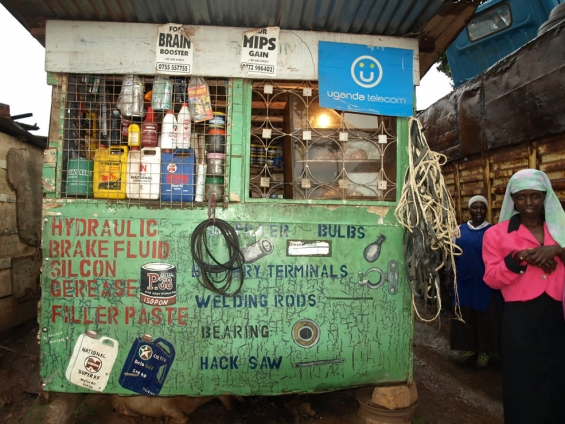 The lady who runs this car maintenance store (right, in pink jacket) says the "BRAIN BOOSTER" and "HIPS GAIN" flyers were posted one night without her permission. (Kawaala, Kampala, 2011)  This was the first time I spotted an ad for brain booster therapy. Offers to enlarge hips and bums, by contrast, were at the timeliberally sprinkled around downtown Kampala.  At first I thought that this was to attract people losing weight through AIDS, but Ugandan friends say it has more to do with local resistance to current, Western models of corporal beauty: big bums and hips are still sexy.  
Incidentally, in Ugandan English, "bum" refers to the singular buttock rather than the pair.  We all have two bums.  
SABMiller, the multinational brewer that owns Uganda's Club brand, seems to be backing a skinny and pale version of beauty.  It's not a bad beer.  (Fort Portal, 2011).
The murals on this hotel in Mubende (roughly half way between Kampala and Fort Portal) speak to aspirations as well as the services the hotel offers.  An SUV to travel in (and secure place to park it); a graduation party; a comfortable place to lie and watch your own TV.  
The rather fine artwork for this Kampala guest house evokes other kinds of aspiration.  (2012)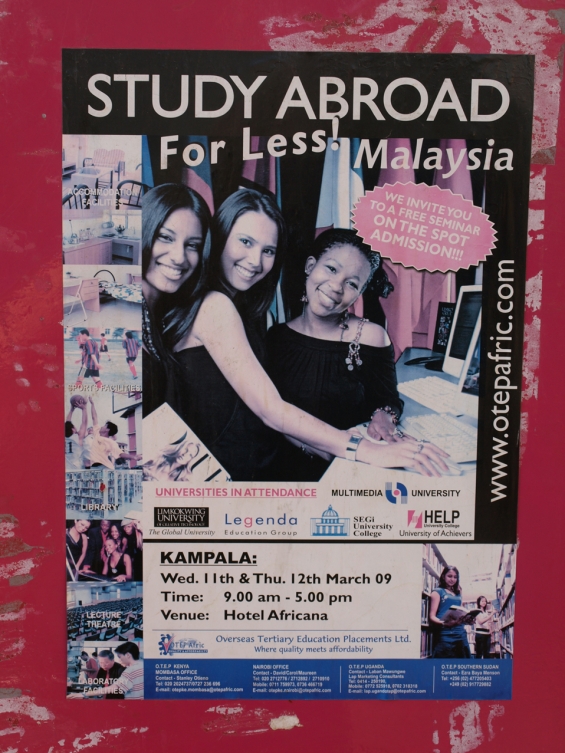 The international education market appears to be booming. (Kampala, 2009)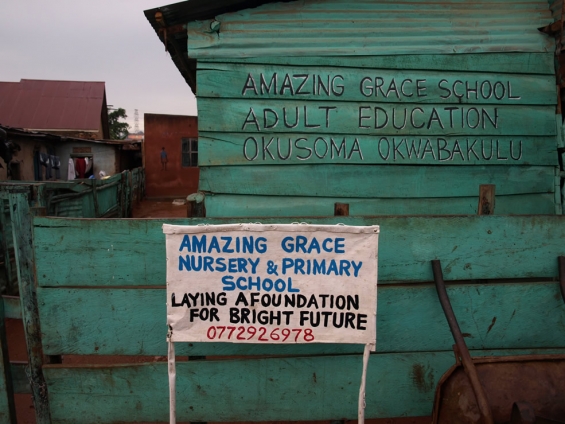 The local, private education market is also booming, but it's a long way from here to university in Asia. (Kamwokya, Kampala, 2011)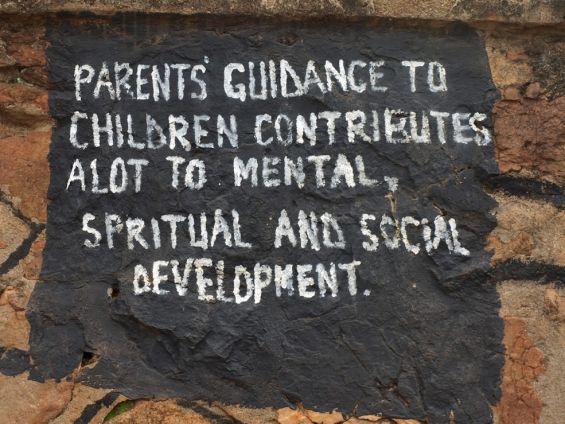 This stricture to parents is one of many painted on the walls of East KololoPrimary School, a state school in  in Kampala.  We used to live just round the corner, and I walked our dogs on the school playing fields most days. As a quid pro quo, when we left the house we donated to the school a large trampoline of my daughter's. Re-visiting more than a year later, teachers I spoke to said that the trampoline had never been seen or used since it was delivered into the care of the school principal.  I don't suppose this had to do with health and safety considerations.Parental guidance may well be the pupils' best hope.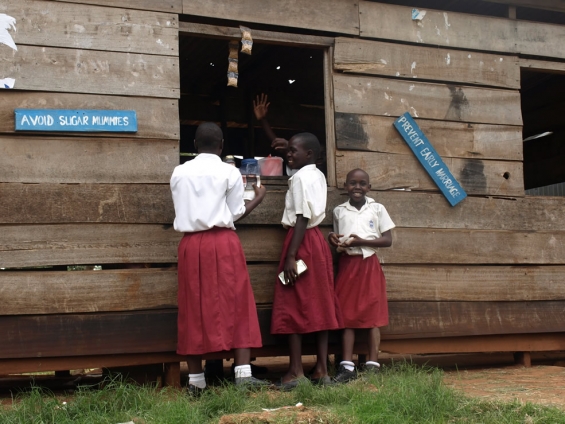 This little shop sells sweets and chapatis to East Kololo primary pupils.  I have not yet had time to investigate the intriguing reference to 'sugar mummies.'  (Kololo, Kampala, 2009)
Quite.